The night Whitney Crewe accidentally stole a scoundrels breeches was the night before he proposed marriage to someone else. At first determined to dislike Lord Acton, Whitney is drawn to him . . . despite his secrets and her intent to leave the disappointments of England far behind. 
Regular price
Sale price
$4.99 USD
Unit price
per
Sale
Sold out
Main Tropes
Enemies to Lovers

Opposites Attract

Star Crossed Lovers
Synopsis

Whitney Crewe has a dream for her life, and it does not include a properly boring marriage or remaining in England. Passionate by nature, she's headed for an adventure abroad but has been temporarily lured into the countryside to paint an important family portrait. Unfortunately, a friend is set to marry the family's nearest neighbor, Lord Acton, and he is someone Whitney has seen far too much of…with and without his breeches on. Their past must remain a mere memory, but ignoring him proves impossible when she understands the decisions he's made to protect those he loves.

Lord Acton is keeping secrets from his friends, and particularly from his innocent bride-to-be. The first was losing his head over an intoxicating, veiled seductress one gloriously reckless evening. A man of his word, he has no choice but to keep his promise to wed, even after he discovers his seductress was his bride's friend, eccentric heiress and artist, Whitney Crewe. The second secret, Whitney stumbles upon all on her own, but her anger swiftly becomes an offer of friendship and much-needed compassion. They have absolutely nothing in common, so why oh why would he risk his future getting to know Whitney when she's opposed to everything he desires?
Intro to Chapter One

Making merry didn't come easily for Everett Dean. The Earl of Acton did his duty, even if the weight of responsibility threatened to choke him at times. He sipped champagne slowly, casting an admiring glance over the lovely ladies who glided past his spot in the avenue of tall birch trees as if he'd not a care in the world.

Those who'd come to enjoy the Fairmont Bachelors Ball on the grounds of the expansive Fairmont estate were having a marvelous time without his participation. He could probably ask any one of the ladies to dance with him, but he did not want to give rise to unreasonable expectations beyond this one night.

Tomorrow it would be whispered that he was finally surveying the marriage mart and that could not be avoided. Those rumors would be true, if a little late. Everett had already chosen his bride, so he was uncertain why he'd felt a keen need to come to this unholy revel alone.

When he'd left his home, he'd originally had no intention of directing his driver to this spectacle but here he was, watching other people enjoy themselves. His hosts were not considered good ton. Lord and Lady Fairmont were more than a little eccentric in their habits, and in the company they kept. Within the manor behind him had been gathered mystics and fortune-tellers, determined to predict his future in exchange for coin. He'd pressed through their number without partaking or being taken for a fool. Acton did not need a fortune-teller to determine what his future path would bring. His future was already determined.

He would take a bride within the next month and that was that.

Miss Alice Quartermane was a fine choice for him. She was not in attendance tonight; she was not out in society yet, and her parents would certainly have shielded her gentle soul from boisterous depravity such as this. He had negotiated the marriage contract with her father last year while riding to hounds at a friend's estate, and he was looking forward to meeting Alice tomorrow in quieter surroundings at last.

Everett accepted another glass of champagne from a passing waiter and looked along the avenue of trees. He would not dance tonight out of respect for Alice, and would dissuade any damsel who might encourage him. Pretty women were in general a distraction from the serious business of being the head of a well-known and respected family. That was why he'd chosen the innocent Miss Alice Quartermane to be his wife. Her father knew his interests. They both agreed that Alice would be the perfect woman to become mistress of Warstone Manor, and his countess. It was the best possible arrangement for all concerned.

A flash of long bright red hair weaving through the trees ahead caught his eye. There were others following her, men and women making the most of the moonlit evening to dance gaily.

Everett was drawn toward them too, and smiling widely.

He'd lost his innocence to a redhead in Leeds at fifteen, been caught rutting with a russet-haired maid at eighteen, and after one final indignity—falling head over heels for a married countess—he wisely chose to keep his amours confined to fair-headed damsels ever since.

Miss Alice Quartermane was reputed to be blessed with very fair hair.

The redheaded woman was garbed as a gypsy—a prosperous lady, judging by the silk caressing her curves and the gold glittering on every finger under the torchlights as she weaved between the tree trunks. Her thumbs sparkled with gold bands too but her face was veiled, so all he could see were a pair of laughing, merry eyes.

But he felt her exuberant laughter as if she was stroking her jeweled fingers over his skin. She broke from the trees onto the clipped lawn and Everett followed. She lifted her skirts a little as she danced with careless abandon, revealing slender ankles and bare feet gliding upon the neatly trimmed lawns.

He drew closer, intrigued by the way she moved with unhindered sensuality. It was as if the darkness was her natural element, and she a flame in the midst of the chaos around her. She did not seem to care, or notice, that she was making a spectacle of herself.

He wasn't the only person who admired this woman. She continued to draw a crowd of admirers, even among the fairer sex. People stared, smiled at her transparent energy, and made a game of trying to copy her movements with varying degrees of success.

Everett was utterly entranced, and found a spot to watch as the redhead suddenly grabbed a lady, swinging her into her wild dance. They laughed in giddy joy, and soon the entire crowd was swaying to a beat that Everett had never seen before at a ton event.

The energy was compelling, the sounds and movements drawing him ever closer to the mass of humanity. He found himself surrounded, touched by strangers as they spun about on their merry way.

The redhead paused in her mad flight right in front of him and looked him directly in the eye as she had no one else so far. He acknowledged her with a dip of his head, unsure of what else he should do. He had not meant to curb her dancing. He'd been enjoying watching her sensual movements too much to desire that, but he was glad she had stopped.

He did not recognize her in the half dark but wanted to know her.

She held out her hand to him, fingers wriggling in invitation. The gems winked and he stepped forward.

Redheads were his weakness, but he suddenly didn't care one whit for caution or restraint or propriety. He took her bare fingers in his firmly. Her skin was soft and warm within his grasp and he didn't want to let go.

She tugged, and he followed her away from the crowds and into the house where it was quieter.

Their fingers still entwined, the lady led him toward a drinks table without a word, hips gently swaying ahead of him. She requested punch from a footman as she lowered her gauze veil.

"Dancing is thirsty work," she apologized in a husky tone between sips of her drink. "Why did you not join in and dance with us?"

He requested another beverage for the lady when she finished the first, trying to better see her face in the candlelight. She looked young, and very, very pretty to his eye. "How do you know I didn't dance?"

Her pretty green eyes glowed with delight. "Because I was watching you watching everyone else at play since you arrived in the garden. You are too serious, sir. Did you not read your invitation? Guests were supposed to leave their cares at the door."

"Life cannot be all fun and games."

"I don't see why not," she insisted. "As long as you hold reasonable expectations, it does not have to be full of misery. A little fun never hurt anyone."

"Is that so?"

The lady, having quenched her thirst, reset her veil over her face. "Indeed. Come with me."

She caught his hand again and pulled him along in her wake and into a deserted long gallery. Holding his hand firmly, she studied the paintings of their hosts' ancestors. "Look at this. You can tell just by looking at them that living life to the fullest extent was their goal. Don't you want a similar happiness for your own life?"

Everett gave the paintings a second longer glance, noting the couple closest to him were surrounded by hens and other farmyard fowl. "It is widely acknowledged that the Fairmont family possess a great number of eccentrics."

"I like eccentrics," she told him. "In fact, I have become one already. I will never do what is expected of me by society no matter how many long noses, and disapproving looks, bear down upon me."

His lips twitched in amusement. The woman had no idea of the trouble that attitude would cause her one day. "Already a rebel to propriety at your tender age."

"I am older than I appear to you, sir," she said, twirling a strand of red hair around one slender, bejeweled finger. "In my family, our looks change very slowly."

"Lucky you," he murmured. There was already streaks of gray in his hair at the temples and the odd strand at his crown. He felt time rushing past him—particularly so when he collected rents and saw how many men of his age had children old enough to work their farmland. But this woman had her whole life ahead of her. "Your hair has very distinct coloring."

"I'm wearing a wig," she confessed with a soft laugh.

It shocked him that she might really not be as she appeared tonight. He stretched out his hand and gathered a lock of her hair between his fingers. She felt real enough to him. "It's a very convincing wig."

Her brows were penciled, darkened with kohl, but he thought he detected a little bit of ginger underneath.

He lost his grip on her hair as the lady brushed her hair back over her shoulder. "Has anyone every told you that you are a very pretty fellow?"

Everett coughed in shock at the bold question. "Not to my face," he said, feeling his cheeks heat with embarrassment.

"But you are," she insisted. Her lips curved into a broad smile and she brushed her fingers across his cheek. She turned his face this way and that, studying him. "You have a face deserving serious consideration."

Her fingers were so firm and warm against his skin that he was astonished to feel himself become aroused just by her touch. "I would like to see more of your face, too."

The woman ignored his words as she traced each of his eyebrows, the shape of his nose, and again caressed his jawline, rasping her fingers against the grain of his new beard growth.

Her attention dropped to his lips, and he discovered he'd captured one between his teeth.

"Can I have you?" she asked.
Purchase the eBook Instantly

Receive Download Link via Email

Send to preferred eReader and enjoy!
Can I buy this book from other retailers?
Share
View full details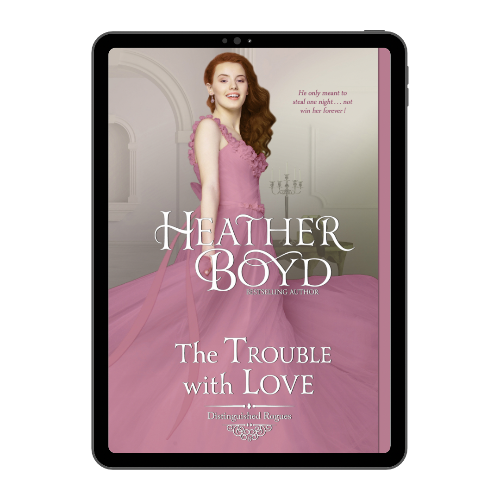 Praise for The Trouble with Love ...
★★★★★ "The Trouble With Love blends fanciful with emotional and begets exceptional. If nothing else, Whitney and Acton prove that life has a sense of humor and sometimes the heart is the last to know, what the head has already discovered. ~ Isha Coleman, I LOVE ROMANCE

★★★★★ Ms. Boyd has created two characters that cause the rest of their world to fade with their vibrancy and willingness to be passionate about life. ~ Dianne, TOME TENDER

★★★★ "…it's the slow building type of romance with a sexual chemistry just waiting to boil over. The Trouble with Love is a great addition to this series and sees one more distinguished rogue find his own HEA. ~ JG Baldos, DELUGUED WITH BOOKS CAFÉ

★★★★ "… this story kept me enthralled until the very end! ~ Amy Alvis, Historical Romance Lover

★★★★★ …the perfect amount of drama, romance, and steamy moments that make this a book to be devoured. ~ REVIEWS BY CRYSTAL
Distinguished Rogues Series
The Distinguished Rogues have the world at their feet, but they may have met their match in this ongoing steamy series.