When intense pleasures of the night deepen into a profound love, marriage seems the next logical step for Teddy. Until he discovers Eugenia has not been entirely candid about a past that would prevent them from sharing any sort of future.
Regular price
Sale price
$4.99 USD
Unit price
per
Sale
Sold out
Main Tropes
Enemies to Lovers

Dark Secret

Second Chance
Synopsis

After the loss of her husband—and her left foot—Ophelia Shaw threw herself into running his distinguished cousin's country estate, to great success. But managing the Duke of Montrose himself was never a task she'd anticipated…until he returns from London without a bride, determined never to search for another. Well aware of the gruff duke's appeal, Ophelia is equally determined to change his mind and school him in the art of courtship—only to be swept off her one remaining foot!

Harry has returned home to the Widow Shaw in a very bad mood indeed, though not because he was jilted. In truth, the one woman he wants is not the lady who received his proposal. Now, Ophelia is resolute he should try again, insisting love doesn't always happen at first sight. If she only knew… To placate her, Harry agrees, keen to have his "lessons" over and done with. They'll either prove Ophelia wrong—or deliver his perfect bride right into his waiting arms.
Intro to Chapter One

"Why are you deferring to Sylvia at home? It is not as if she's becoming royalty," Eugenia Hillcrest complained to her youngest cousin as they entered Wharton House, the Marquess of Wharton's grand London mansion in Cavendish Square, after a night of rubbing shoulders with the cream of society.

"Close enough," Aurora noted as she passed off her shawl and reticule to a hovering servant. "Sylvia is to marry one of the most eligible bachelors and popular lords in society. Everyone had been trying to catch his eye until our cousin seduced him."

"She did not seduce him," Eugenia hissed and then moderated her tone down to a whisper. "They fell in love in the best way. Secretly."

"I still cannot believe she didn't say a word to warn us of the blossoming romance, and she should have given us time to prepare for all this," Aurora said, casting a glance up at the vaulted ceiling, where a pastoral scene had recently been painted. Gilt and mirrors, too, as far as the eye could see. "I thought we had a pact to share everything."

Eugenia had thought so, too. But Sylvia had deceived them both, meeting secretly with a marquess for weeks before they'd both borne witness to the most startling marriage proposal from Lord Wharton. Although annoyed with Sylvia, Eugenia could understand why she had kept her silence about the affair. There were some situations in a woman's life that were impossible to explain properly, especially when one's heart was deeply involved.

The Marquess of Wharton was quite the catch, but he had flaws, too. The first being, he was extremely high-handed. They would never have imagined such a powerful man might be drawn to their dear but poor cousin. But he was utterly besotted with Sylvia. She was glad Wharton had done the honorable thing in the end and proposed a partnership of love and trust.

It helped that Sylvia loved Wharton to distraction, too, and had declared him her perfect match in every way that mattered. Wharton's respect for Sylvia's opinions, even when they were the opposite of his own, had made it easier for Eugenia to accept the match in the end. With Sylvia's marriage into an important family, though, Aurora and Eugenia were both under the continual scrutiny of the unforgiving ton forevermore.

And members of the ton were easily provoked to spiteful tattling. Even women of her age, seven and twenty, came in for censure for misbehavior, real or imagined, all the time. It was fortunate she had no expectation of making a match herself, but she did worry about spoiling her younger cousin's chances by putting a foot wrong.

A hard rap on the door sounded behind them, and the butler sprang into action to admit a dozen titled gentlemen, wives, and bachelors who had been invited to follow them home. Lord Wharton liked to entertain.

"Ooh, look. More company for tea," Aurora crooned in obvious delight.

Actual tea at this hour of the night tended to be in short supply for Wharton's impromptu parties, but spirits and wine were always plentiful and far more popular.

Eugenia glanced over her shoulder as a pair of late stragglers were admitted. Mr. Thaddeus Berringer, a dark-haired gentleman she'd admired from afar for a while, and Lord Sullivan, a former client of the Hillcrest Academy, strode into the chamber and looked about them, smiling.

Eugenia uttered a happy sigh.

The attendance of the Duke of Exeter's heir would make the evening more enjoyable for her. Good-looking men were meant to be appreciated from all angles and from top to firm-muscled bottom.

She leaned toward her cousin. "Lord Sullivan is here."

Aurora made an unhappy sound but did not turn to see. She had never hidden the fact that she thought little of Lord Sullivan.

Eugenia sighed. "Why can you not be kinder to our former client?"

"I have my reasons," she said loftily.

Sullivan was a nice man. Wealthy. Softly spoken when in the company of ladies. He had not been keen to marry the last time they had met, although he was being pressured by his family. She shrugged away her curiosity about Lord Sullivan's arrival or situation. They were no longer in the business of helping gentlemen prepare to find a bride. Sylvia's engagement had made continuing their work impossible.

She resumed her discreet admiration of Mr. Berringer. "Do you think Exeter's heir has a mistress yet? There is any number of ladies I know trying to catch his eye."

"All the ladies I know who have tried have been soundly rebuffed," Aurora confided.

That made Eugenia even more curious about him. It was no hardship to imagine he could have his pick of lovers. "Married or other?"

"Married," Aurora said with a heavy sigh. "It seems our Mr. Berringer has a severe dislike of becoming an adulterer, and he avoids marriage-minded spinsters, too."

"Society is overrun with both." She chuckled. "Widows will be overjoyed if they figure out they have the best chance of becoming a duchess one day. But I like him all the more for his restraint when it comes to avoiding married women," Eugenia murmured. "I dislike the idea of anyone coming between a couple, even if they are poorly matched."

"Do not disregard the appeal of illicit love," Aurora warned. "He's a man. He'll find someone willing, I'm sure," she said with a decidedly wicked laugh.

He might, too.

Thaddeus Berringer was handsome, of sober habits so far, and a duke's heir. It was widely reported that the Duke of Exeter had settled funds and property on his heir last year. There would be no limit to the vices and scandals he might indulge in one day, if he had the money and the company of wicked friends. He had little influence yet, though, and did not appear overly ambitious. Everyone gossiped over the tiniest details about his days. She had heard he'd left Town two weeks ago, and everyone speculated that there'd been a falling out in the family.

Utterly unfounded, most likely. She had borne witness to the Duke of Exeter and Thaddeus Berringer laughing together with pleasing frequency.

But debutants constantly followed him around ballrooms, hoping to be noticed and singled out for attention. Little was known of his reputation with the ladies at all, which was likely why she found him fascinating.

If he turned out to be as predictable as all other lords in society, Thaddeus Berringer would align himself with a woman of fortune and family in an attempt to gain power and influence over society, even before he became a duke.

They flowed along with everyone else to the drawing room as conversation sprang up between guests. Aurora and Eugenia were largely ignored. They had neither fortune nor fame. Although Sylvia looked their way with an expression of longing, they knew better than to believe she would join them tonight. Wharton talked of politics a great deal at these sorts of things, or he flattered Sylvia outrageously. Neither Eugenia nor Aurora enjoyed such talk for too long, but Sylvia hung on his every word—as it should be.

Besides, there were other topics that interested Eugenia and Aurora, which could entertain them for hours. Their favorite subject would shock prudish members of the ton.

Eugenia drew her younger cousin along, circling those gathered. She leaned close to Aurora to whisper, "Who would you have?"

"Tonight…" Aurora pursed her lips briefly, a small smile emerging as they strolled about the chamber considering the choices before them. "I think I should like tall, dark and," her eyes lit up, "mysterious."

Eugenia scanned the crowd again. Tall, dark, and handsome was in plentiful supply. Mr. Berringer was present, and Eugenia's interest had become sadly fixed of late on him—the unobtainable man. But then a new man caught her eye—a stranger to Wharton's late-night gatherings who seemed to match Aurora's description. "I wonder who he could be?"

"Who cares who he is. It's what he can do for a lady that is the real question."

Eugenia hid a smile and discreetly observed the fellow, from the top of his perfectly tousled dark hair to the nicely formed bulge in his black satin breeches. "He seems quite well turned out. Meyer?"

"No, he wears a Weston creation, I believe." Aurora made an approving sound as she twisted a lock of hair around her gloved fingers. "Delightfully fitted garments, one and all. I swear I can estimate his measurements even from here. I wonder if our cousin has the time to introduce us."

Sylvia had her back to them and was laughing in Lord Wharton's company.

"Patience, cousin. Anticipation is half the reward." And it did not do to appear too eager at these sorts of gatherings. Some gentlemen took exception to women they considered forward, and all men gossiped as well as women. If they put a toe out of line, they could find themselves on the outs very quickly with this persnickety set. That might impact Sylvia's standing in society, too.

Aurora pouted. "But am I not deserving of a reward as enticing as he appears to be?"

"Rewards might have to wait until Sylvia is actually married, and we can be ourselves again," Eugenia said, reminding Aurora of their mutual decision to be on their best behavior. Eugenia appreciated a well-proportioned man as much as Aurora did. But the way they had pursued pleasure before Sylvia's engagement was markedly different to how they could do so now.

There were many delights Eugenia had forbidden herself. Dalliances with anyone connected to the Marquess of Wharton's family were a risky venture. She might talk of hope of seduction, but that was as far as she dared imagine for now. And since they mingled almost exclusively with Wharton's set of friends, opportunities for trysts were virtually nonexistent.

A woman joined the mystery man, capturing his arm and full attention. She clung to the man with a proprietary air, so it seemed clear he belonged to some lucky woman. A wife?

Aurora sighed sadly. "Sometimes wondering is more enjoyable than discovering the truth that a man might be married already."

"Indeed, it is." She flashed a conciliatory smile in Aurora's direction. "We can still observe and imagine."
Purchase the eBook Instantly

Receive Download Link via Email

Send to preferred eReader and enjoy!
Can I buy this book from other retailers?
Share
View full details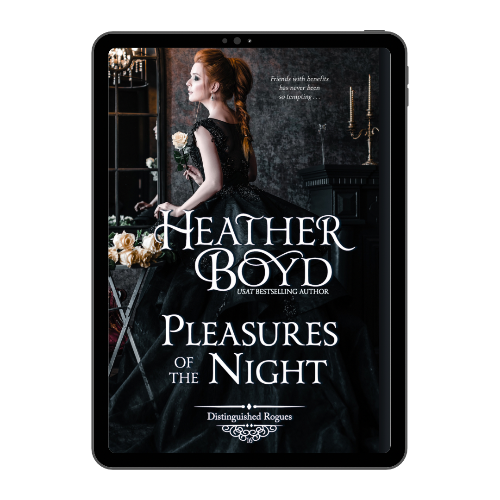 Praise for Pleasures of the Night ...
★ ★ ★ ★ ★ – "This book was a delight it was all twisty and unexpected…I highly recommend this book!" ~ Crystal, Amazon reviewer

★ ★ ★ ★ ★ – "…just the right amount of historical feel without throwing an anchor around the plot." ~ Bin Blogs Books

★ ★ ★ ★ ★ – "The twist in the plot definitely had me turning the pages." ~ Jabeen S, Goodreads reviewer

★ ★ ★ ★ – "Equal parts sweet and wicked…too intriguing to put down." ~ Betty Loo's Reviews

★ ★ ★ ★ – "Looking for smexy times, check out this book." ~ Angela D, Amazon reviewer

★ ★ ★ ★ – "Perfect for fans of the Bridgerton series! It has all the drama of society, the Ton, and much more scandalous!" ~ Alys C, Negalley reviewer.

★ ★ ★ ★ – "If you loved Bridgerton – this is right up your street!" ~ Maria M, Netgalley reviewer

★ ★ ★ ★ – "This book has a little bit of everything (mystery, sex, romance….) and it perfectly delivers it all." ~ Candice B, Netgalley reviewer.
Distinguished Rogues Series
The Distinguished Rogues have the world at their feet, but they may have met their match in this ongoing steamy series.