Unrepentant rogue Giles Wexham, Earl of Daventry, has dedicated his life to avoiding needy women, and marriage. During his summer holiday, he becomes reluctant nursemaid to Lillian Winter, his former betrothed. Shy, fragile Lilly tempts him but to claim her Giles must expose the dangers her past—before it's too late.
Regular price
Sale price
$4.99 USD
Unit price
per
Sale
Sold out
Main Tropes
Woman in Peril

Reunion

Stuck Together
Synopsis

Unrepentant rogue Giles Wexham, Earl of Daventry, wrings pleasure from every moment and likes his carefree life exactly as it is. During his summer retreat to the country, he becomes reluctant host and nursemaid to his former betrothed, a woman he'd thought long dead, a woman Giles had mistaken for a ghost while he found pleasure in another woman's arms.

Unbearable pain and laudanum have kept Lillian Winter apart from society since the accident that ruined her life. She's endured six years of agony at the hands of incompetent practitioners, and longs for an end to her suffering. Finding herself in the Earl of Daventry's care brings surprising relief from her injuries, and a glimpse into the life denied her. Yet as newfound pleasures lower Lilly's resistance to the wicked earl, a long-forgotten danger returns to stalk her.
Intro to Chapter One

Giles forced a smile to his lips to welcome Lord Winter to his country estate in Northamptonshire. "Winter," Giles called. "Welcome back to Cottingstone."

The newcomer shook his head. At least the old baron could pretend to look pleased that Giles had broken his rule about receiving a guest at Cottingstone Manor. But no, Lord Winter's face wore a perpetual frown, just like every other time their paths had crossed in London.

"Daventry." The older man's quavering voice, pitched somewhat lower than Giles', betrayed exhaustion. "The place hasn't changed."

Giles held out his hand. "You must be weary. Dinner won't be served for an hour, but I have some excellent whiskey to soothe you while we wait."

The baron crushed Giles' fist. "Brandy would be preferable in its place—especially today. But first…" Winter returned to the carriage.

Giles took a step back toward his butler. "Dithers?"

"I shall switch the decanters when I return to the house, milord," he promised.

"Do that, and ask Cook if dinner can be brought forward," Giles murmured. "Lord Winter doesn't appear in good health."

"I don't believe his health is the problem, milord," Dithers replied.

Without another word of explanation, the butler stepped back, leaving Giles to ponder to whose health he had referred. The baron traveled alone and often. His servants all looked a disciplined, healthy bunch. But they moved carefully on the carriage and didn't speak overloud. The horses were settled swiftly, too. Calm, efficient, eerie.

As Giles stepped out of the way of a burdened footman, a bloodcurdling howl erupted from beyond the house. Every man stopped and stared, not in the direction of the sound, but at the dark carriage they were unloading.

The steady pounding of paws heralded the arrival of Giles' ancient wolfhound, Atticus. Judging by the dog's speed and his whining agitation, something was seriously amiss with him. In fact, this level of energy from the hound was more than a little surprising. He had spent most of Giles' visit lying under his feet snoring.

Atticus skidded to a stop beside the closed door of the carriage. If the door had been open, Giles was sure the hound would have barged his way in. He ignored the restless horses and stunned attendants to haul his beast out of the way. The dog was heavy and determined to stay exactly where he was, but Giles managed to pull him aside.

Lord Winter stared at the dog, nodded, and then stepped into the carriage. When he emerged a few moments later, he held a body in his arms.

Atticus, generally so docile, whined and whimpered, straining against Giles in such a fashion as to cause alarm. Lord Winter adjusted the black-cloaked figure, and the bundle moaned.

Every hair on the back of Giles' neck rose. That was a woman's moan—one in great pain. He renewed his grip on the restless dog.

Lord Winter moved slowly toward the house, keeping his movements smooth. The grim set of his features showed just how much effort he expended not to jostle his burden. There was agony on that rugged face, too much grief for one man to bear alone.

With a hitched brow, Giles glanced at his butler, but Dithers revealed nothing. The butler scurried ahead to push the main doors wide and gestured Lord Winter inside. Giles followed, imitating the baron's quiet steps and keeping Lord Winter in sight.

Just inside the doorway, the baron stopped and bent his head to the bundle in his arms.

"Atticus." A voice carried to Giles' ears, eerily soft and pain-filled.

Giles only just managed to stop the dog from flinging himself at the woman.

"Atticus, come." Again, that voice called his hound, and a pale arm slipped from beneath the black travel cloak to hang down limply.

Atticus whined, pulling Giles forward unwillingly. The dog reached the woman's hand, rasping his wet tongue against it. At first, she jerked back, but returned to rub the dog. Since Giles held the beast, he couldn't miss the shudder that vibrated through Atticus. Giles was stunned by the sensation.

"Atticus, heel." The woman spoke again, and Giles tensed as the voice tickled his memory.

The wolfhound calmed instantly, pulled free of Giles' slackened grip, and moved along with Lord Winter. Troubled, Giles followed them upstairs.

Once at the chamber, a nurse, who Giles only now noticed, pulled the drapes closed, ushering Dithers out with agitated flicks of her hands. Lord Winter lowered his burden to the high bed, removed the dark cloak, and pulled the blankets tightly around her.

From his position at the doorway, Giles noticed no more details of the woman, but her identity intrigued him. She knew his dog's name? What was Lord Winter doing driving across England with an ill woman in tow? Surely, he could have arranged some other care, rather than dragging her on what appeared to be a painful journey.

To his surprise, Atticus padded across the room and stepped onto the dais. Once on the bed, the hound nosed in close to the woman's hand. Surely Lord Winter would shoo him away. 

But the woman clutched at the dog's shaggy coat, pulling him against her side with a soft sigh.

His guest said nothing as he joined Giles at the door, so Giles stepped aside to allow the baron room to pass. Winter looked over his shoulder once before closing the door on the woman, dog, and nurse.

"What the devil is going on?" he demanded. 

"Not now, lad," Winter begged and turned away.

Giles stared after his guest in shock at his lack of manners then hurried to catch up. He rarely entertained guests for a reason. Giles liked privacy and peace at Cottingstone.

"I trust you had an uneventful journey," he asked. 

Winter grunted and strode for Dithers who was holding a glass of brandy. 

An hour later, not even spirits and a pleasant meal had sweetened his mood or made him more forthcoming. The food had been more than satisfactory, braised duck with plum sauce, followed by truffles and plum pudding.

The company at the table, on the other hand, had been poor.

Giles was fast losing his patience with the baron. Unease knotted his shoulders. The woman's voice nagged at the edge of his memory. She was a puzzle he couldn't solve. The man opposite offered nothing by way of explanation for her presence but stoically downed glass after glass of Giles' best brandy as if determined to forget. 

The baron had aged in the last few years. Iron-gray hair graced the sides of his head and candlelight reflected off the top. The once proud Corinthian dressed with supremely dull taste, but, given his habit of constant travel, perhaps that was more a matter of practicality than choice.

"Never thought she'd survive this long," the baron began suddenly, staring into his glass as he swirled the contents around. "Been years more than I thought she'd have. Dragged her from one end of the country to the other in the hope of a cure, but it has all been for nothing. Quacks and charlatans. Every one of them useless."

Lord Winter poured another large drink with unsteady hands. "She was such a bright little thing, always ready with a smile. Full of life. A perfect angel." He shook his head as if frustrated by his own words. "I just could not bear to leave her behind. You have to be so careful with her."

Giles didn't respond, but he inched closer, intrigued by Winter's words to be sure he caught them all.

"Too many accidents. Too many mistakes. Her reaction to your hound was the first real response I've witnessed in years. I'd stopped believing she was there. It has gotten my hopes up again, but nothing good can come to her now. It's too late."

"I'm sure you're doing the best you can," Giles said, not knowing if he spoke the truth, but positive he should say something rallying.

"I wish I could believe that. No man should live longer than his child."

It took only a moment for Giles to review the Winter family tree in his mind. He reared back. "That's Lilly?" Giles jerked at his cravat, suddenly hot at the thought of her.

"Who else did you imagine it might be?" Winter's composed veneer blurred away fast under the influence of brandy. He sat forward, eyes alight with anger.

Giles had no answer other than the truth. "I was told your daughter died years ago, sir."

Lord Winter's face turned an ugly shade of red. "And who told you such a blatant falsehood?"

As a rule, Giles preferred to speak the truth, but in this case, he hesitated. He did not like to meddle between a man and his wife, but if Lady Winter had spread lies, the baron had a right to know. "I'm afraid your wife informed me, sir."

Lord Winter slumped in his chair, rubbing a hand over his face. When he looked up, the baron's face held pain. "What is a man supposed to do when the mother of his child would rather her be dead?" Lord Winter sobbed on the last word, rusty grief shattering the peace of the room.

In his entire life, Giles had never been in the presence of a crying man. Drunk, vomiting, or fucking, yes. Occasionally all three on the same night, but never crying. Where was one supposed to look?

Lord Winter cried like a man who had held back years of anguish. Giles sat silently, waiting uncomfortably for the storm to pass. Lord Winter shifted in the chair, finally turning his face away. The man surely had to be embarrassed.

Perhaps he should pretend he hadn't heard the sorrow. Giles rose from his chair, poured Winter another drink, and then moved to the window to look out into the stormy night. But his body screamed for flight.
Purchase the eBook Instantly

Receive Download Link via Email

Send to preferred eReader and enjoy!
Can I buy this book from other retailers?
Share
View full details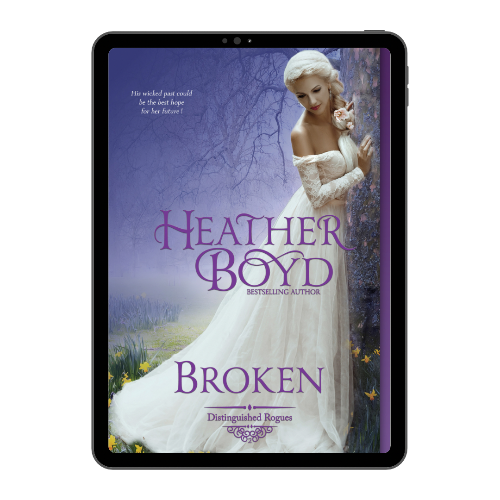 Praise for Broken ...
★ ★ ★ ★ ★ "A beautiful romantic, sexy book." ~ Romance z top
★ ★ ★ ★ ★ "Ms. Boyd has a way of drawing you in when you least expect it." ~ JRT
★ ★ ★ ★ ★ "Just the right mixture of romance and intrigue. I loved all the characters from the butler to the dog." ~ CLB
★ ★ ★ ★ ★ "This is a wonderful story of a redeemed rogue that can finally find happiness with a ghost of a woman." ~ A Reader
★ ★ ★ ★ ★ "…a wonderful love story with a lot of twists and turns." ~ Estell S
★ ★ ★ ★ ★ "…a unique, page turning, delicious romance. I cannot say enough about this book or this author." ~ Fi J
Distinguished Rogues Series
The Distinguished Rogues have the world at their feet, but they may have met their match in this ongoing steamy series.