The Earl of Windermere might desperately require a wife and heir, but thoughts of duty fly from his head when he rescues Lady Heathcote from the humiliation of a failed affair and discovers that fighting with the widow seems a waste of a romantic moonlit evening.
Regular price
Sale price
$4.99 USD
Unit price
per
Sale
Sold out
Main Tropes
Friends to Lovers

Scandalous House Party

Fling
Synopsis

Richard Hill, the Earl of Windermere, might desperately require a wife and heir, but thoughts of duty fly from his mind when he rescues Esme, Lady Heathcote, from the embarrassment of a failed affair. They usually never agree about anything. He's never even kissed the vexing widow. But when the opportunity arises to whisk her away for a no-strings-attached rendezvous, Richard can't imagine a better way to spend a moonlit evening.

Esme has never lacked for admirers, but having Lord Windermere's company goes a long way to ease the pain of losing her suddenly betrothed lover. And when Windermere suggests an affair, Esme is intrigued by the blazing-hot connection even while knowing their relationship has no future beyond his house party. But as with any temptation, it's a bargain they'll soon regret.
Intro to Chapter One

Every woman can appreciate the challenge of making a man do what she wants. Unfortunately for Lady Heathcote, Esme to her closest friends, her chances of success tonight seemed to have fled along with her lover. "Now where has he gone?"

She scanned the room in search of Mr. Albert Meriwether. However, it was becoming increasingly clear that inviting him to Lord Windermere's house party in Gloucestershire had been a colossal mistake on her part. She had his attention here even less than she had in London, and no one had even been stolen from or murdered. She should have broken with him when she'd sensed his repeated reluctance to take time away from his important work in the city.

"He's across the room, making good on his intention to win every lord in attendance over to his cause," Lady Ames warned.

Again.

"I must say, if you had not mentioned your connection earlier today, I'd have had no idea you were such good friends," Lady Small whispered dramatically. "He's paid you less attention than our host and we all know you've been at odds with Windermere for an age."

Harriet met her gaze, her expression tinged with concern. "I've known of social climbers before, of course, but never one so pointedly obvious as Meriwether."

"That wasn't why we came, Harriet," she complained softly to her friend and confidant.

Harriet squeezed her arm, full of sympathy. Esme had dragged Meriwether from London to reignite the spark of their affair before his obsession with his work snuffed it entirely. But he was determined to curry favor with the most influential lords in attendance. And if he couldn't gain their ears for long enough, he'd started being friendly toward their wives, too.

She'd had more of his nonsense than she could tolerate and turned away.

Esme left Harriet to her own devices and wandered the public rooms of Windermere Park on her own. The loveliest property she'd ever visited was the home of the most arrogant man she'd ever met. She'd been surprised by the invitation to come this year, but never considered refusing after reading Windermere's most sincere apology for losing his temper with her. With his last lover, Lady Bartlett, being so proficient at amateur theatricals, it hadn't been surprising the woman had pulled the wool over his eyes, professing to a pregnancy that was just a myth. And it had been Esme's unfortunate sense of fair play that had prompted her to warn him that Lady Bartlett wasn't the least bit pregnant. His vitriol had fallen on her head-first, of course, but at least he'd listened and not married the devious woman.

In the hall, she encountered Windermere's ancient butler, a kindly soul who'd served the family forever. Oswin was a sweet old man who never failed to treat her well, so she stopped to speak to him when so many others wouldn't bother. "Good evening, Oswin."

He nodded. "Might I be of service, Lady Heathcote?"

She took in the lean to his posture and his tired expression and smiled. "Yes, you can go and sit down and let young Pip run around in your stead for the rest of tonight."

Pip was the newest footman employed here, but Esme was confident the young man wouldn't mind the extra work or the experience.

"It's my pleasure to serve the family," Oswin replied with his usual dignified loyalty.

"As you wish." She'd let the matter slide but privately thought a man his age should be already training his replacement. If she were mistress of this house, she'd have begun long ago. A long house party like this could send him to his bed from sheer exhaustion, and then where would the family be?

She glanced back inside the drawing room once more.

Lingering by the hearth, Meriwether laughed with Windermere's guests. Most part of her extended circle of friends too. She considered each man in turn…their intelligence, their reputations. Their chances of being won over to Meriwether's cause to formalize protection for the wealthiest homeowners with a private, trained guard. Her host, Lord Windermere, and his younger brother Lord Avery Hill were among them, and both were extremely shrewd gentlemen. They would have the greatest influence on the others if Meriwether won their support this week.

As far as causes went, Meriwether was entitled to his opinion that such a service was needed. But the truly needy of London were most at risk from robbers and couldn't afford to pay for their own private guard. Truth to tell, she was finding it hard to support Meriwether's ambitions as completely as she once did. She'd also come to suspect their affair had become a way to gain entry into the upper ten thousand by association, a means to an end for him.

However disappointed she might feel about that and his motives, Esme would never allow herself to depend on a man for her entire happiness. If she wasn't involved with Meriwether, there was always someone handsome to fantasize about and encourage into her bed down the road. Over the years of her widowhood, she'd never lacked for male companionship.

She nodded to Lord Avery Hill and Miles Hammond as they strolled past. The glow of appreciation in both men's eyes practically shouted their interest and soothed away her hesitation to break with Meriwether. She'd easily find someone who wanted to be with her.

Lord Avery Hill moved toward Harriet, and she smiled with understanding. The pair had been lovers on and off for years, and it seemed this year would be no different.

Mr. Miles Hammond, however, was another matter entirely. A friend of hers since the final days of her largely unhappy marriage, his inclusion in the house party guest list confounded her. He was not a particular favorite of their host, or even of his brother, yet all had seemed to be in quite a genial mood with each other since the party began. She'd have to find out why Hammond had been included.

She glanced about those gathered for tonight's ball. Champagne was being passed around freely, and everyone seemed happy and infinitely agreeable to enjoy the party atmosphere to the fullest extent. Parties such as these were opportunities to mingle and conduct discreet liaisons without expectation of deeper, longer-term connections in many cases. It was all very civilized. As the quartet hired to play tonight tuned their instruments, she smiled. She might find her host a trifle wearying, but she could ignore the little irritations in Windermere's company, given her expectation of every other pleasure.

She moved away from the hall as new guests were welcomed by Oswin and turned her gaze on Windermere. Couldn't he see his nearest neighbors had arrived and needed to be introduced to the first-time guests?

But no, he remained watching Meriwether talk, a slight frown on his face.

After a long moment, Lord Windermere cast a questioning glance her way, catching her watching him. Unwilling to be ruffled by his scrutiny, Esme stared back. Good God, those cornflower-blue eyes of his would render a lesser woman immobile if she was unprepared. Esme knew Windermere well, though, well enough not to be affected by his handsome face. He knew he was attractive, too; he thought far too well of his appeal for her taste, and she sometimes stared at him overlong just to make him a tiny bit uncomfortable.

His grin faded slowly as she held his gaze and then his glance cut to those gathered about him and back to her, a question now in his eyes. Esme hid a smile, tipped her head in the direction of the hall, waiting for Windermere to catch on to why she stared at him so pointedly. It certainly wasn't for his looks alone.

He shook his head, as if clearing his mind of a thought, and hurried off to do his duty as host, leaving her laughing at his befuddlement.

The man needed a wife sooner rather than later to manage himself and his home affairs better. Someone to point him in the right direction from time to time, or even daily.

She turned back to her quarry, only to be disappointed yet again. Meriwether was headed in the opposite direction. He snagged two glasses of champagne, glancing over his shoulder once or twice as he navigated the crowd and slipped into the hall.

How sweet. Perhaps she'd misunderstood his preoccupation, and he was arranging a private rendezvous for them both beyond the ballroom. Esme didn't require the fuss of a perfect seduction, but his hands on her body would be very fine tonight.

She moved toward him but again lost sight. Esme drew in a deep breath in frustration. It wasn't the first time the man had vanished so completely since they'd arrived two days ago.

The hallway beyond the drawing room was filled to bursting with chattering guests and she moved smoothly through them, nodding and speaking occasionally to some. While she admired the elegance and comforts to be found in Lord Windermere's home, she kept her eye out for Meriwether. She turned into the library, but the room was startlingly empty.

"Looking for me?" Windermere asked as he came to stand nearby. His gaze raked her from head to toe in the most gauche way.

Arrogant and presumptuous. "Hardly. You should pay more attention to your guests and the health of your servants."

Instead of taking the hint that she wasn't in the mood to talk, he caught her hand and raised it to his lips. His blue eyes danced with amusement. "I do love when you're friendly. How have you been, Esme?"

She scowled at him and withdrew her hand to her side. "I've not given you leave to use my first name, and I am not in a mood to spar with you. Go back to your other guests for amusement and send your butler to his bed. Anyone can see he's on the verge of collapse tonight."

"I already banished Oswin to rest." He laughed suddenly. "Young Pip has assumed his duties until Collins comes up."

"Just as well," she replied, thankful for such sensible decisions at last.

"Only you would ever dare tell me what to do in my own home. I wanted to thank you for coming," Windermere murmured. "But to convince everyone we're not at odds, you will have to talk to me occasionally with a little less acid in your tone."
Purchase the eBook Instantly

Receive Download Link via Email

Send to preferred eReader and enjoy!
Can I buy this book from other retailers?
Share
View full details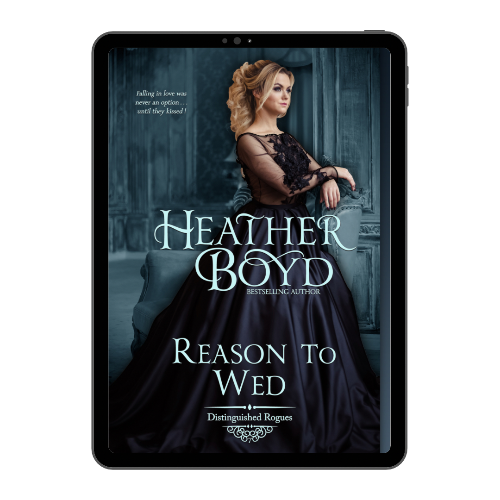 Praise for Reason to Wed...
"I was left spellbound by Richard and Esme's passionate story. As soon as I started reading it, I soon got pulled into their story, and could not put it down … If you love a story that is scorching hot, then, Reason to Wed, will be perfect for you!" ~ Nicole Laverdure

"A Reason to Read!…A quick escape, this novel is the perfect way to indulge in a happy ending!" ~ Jenerated Reviews

"…sexy, humorous, and absolutely adorable friends to lovers story…" ~ Deluged With Books Café
Distinguished Rogues Series
The Distinguished Rogues have the world at their feet, but they may have met their match in this ongoing steamy series.