She's a lady possessed of lineage and a large fortune. He's a poor actor with naught but a shady past and his pride. When Fanny presents Jeremy with the opportunity of a lifetime…it's she who receives more than her money could ever buy.
Regular price
Sale price
$4.99 USD
Unit price
per
Sale
Sold out
Main Tropes
Older Heroine

Fake Relationship

Workplace Romance
Synopsis

Fortune hunters and fools. Those are the gentlemen Fanny Rivers has endured since her husband's passing. Men who believe women too feeble-brained to manage a fortune, much less help it grow. So for her sister's upcoming wedding festivities, she's combined her business acumen with her habit of collecting strays—hiring an actor to play her besotted beau. And it's working marvelously. Too marvelously. Before long, her attraction to Jeremy makes it difficult to discern fact from fiction, and Fanny herself is in danger of falling for her own scheme.

Jeremy Dawes can scarcely believe his luck when Fanny Rivers agrees to be his patroness. Despite learning he's the latest in a long line of charity cases, he willingly takes on the most complicated role of his fledgling career—that of a proper gentleman. She'll never need know of his unsavory beginnings, though the closer they become, the more Jeremy wishes he could be what she deserves. It's only after a thrilling moment of intimacy—and a regrettable decision by Fanny—that Jeremy finds unexpected allies in the negotiation for his savvy lady's heart.
Intro to Chapter One

Fanny Rivers fixed a diamond necklace about her throat and then dropped her hands to consider the effect in the mirror. The style was perfect for the gown she wore but perhaps not so for the coming gathering. "A little too much for a luncheon, I think."

"Any would be my choice," declared Mrs. Jessica Whitfield, Fanny's younger sister.

"No." Fanny removed the necklace and chose instead a long gold chain with a teardrop pearl hanging from it. She fastened the chain about her neck and settled the pearl between her breasts. She smiled. Perfection.

"Come on, Fanny. There's got to be steam coming out of her ears by now," Jessica warned with growing impatience from the doorway of Fanny's old chambers at Stapleton Manor, her father's home.

Fanny was visiting her father's country estate for the second time this year, to attend the wedding of her younger sister. Her first visit had been for Jessica's wedding to neighbor Gideon Whitfield in June. The second wedding would be for Rebecca's marriage to Lord Rafferty a week from now—and that announcement had come as quite a shock.

"We're not late, and besides, it doesn't hurt to make the man Rebecca is marrying a little anxious for her whereabouts," Fanny promised.

Jessica uttered a wicked chuckle. "He's anxious for the wedding night."

"And all the ones after, too," Fanny promised and then laughed along with her sister. Rebecca and Adam, Earl of Rafferty, made an unlikely pair. But having come across them together in an unguarded moment Fanny should never have witnessed, she understood. Her sister had finally been swept up in a grand passion. "Have you ever seen a more smitten man?"

Jessica grinned. "Yes, my husband looks at me like that every morning."

Gideon Whitfield, Jessica's husband, at least tried to keep his passionate regard for his wife off his face at mealtimes. "And are we not all happy about his constancy. Rivers was much the same, too."

"I hardly remember your late husband now," Jessica admitted.

Fanny missed Rivers still, especially at family gatherings. "Well, he adored you. Thought you would grow up and break hearts."

Jessica blushed a little.

Fanny, deciding she was as ready as she'd ever be, collected her shawl and reticule and swept toward the door. She did not dislike the institution of marriage. She had enjoyed a happy, if brief, one herself. But the urge to take the plunge a second time was not appealing. She had been left with a vast fortune when her husband had died. Fortune hunters had come out of the woodwork the day she'd cast her mourning aside. And that was five long years ago now. She had learned to do without a husband, if not a man in her bed from time to time.

She tweaked Jessica's nose. "Are you ready?"

"An hour ago."

"Come on, we're very late," Fanny murmured.

"You made us late," Jessica grumbled as she darted out to wait for Fanny to secure her bedchamber door and pocket the key. There were many guests staying at Stapleton Manor for the wedding, and Fanny liked knowing her papers and possessions were always secure.

She strolled along the hall at an unhurried pace, despite Jessica's attempt to hurry her along. At the top of the stairs, she paused to look down. Rebecca was standing at the foot of the stairs sixteen feet below, arms crossed under her breasts. "Good morning, sister," Fanny called as she started down the grand mahogany staircase to meet her.

Rebecca punched her hands to her hips and glared. "I was about to leave without you."

"You would not dare," Fanny murmured soothingly. Rebecca and Jessica were matched in impatience today. "Not without your favorite sisters by your side."

"My only sisters," Rebecca shot back just as quickly. "Come on, Ava will think we've forgotten about the party."

Ava was Lord Rafferty's only daughter and quite excited to have a new mother soon.

"As if we could," Jessica exclaimed. "I am very much looking forward to spending time at your future home. I've visited Gable Park so rarely."

Rebecca hooked her arm through Jessica's and strolled out the front door, nodding to the Stapleton butler as she passed. "Well, that will not be the case after I wed, I hope."

"No," Jessica promised.

"Of course, we will visit." Now when Fanny came to the country, she'd have to extend her stays by almost two weeks in order to visit three homes instead of just her father's.

Rebecca climbed into the carriage first with an audible huff and immediately started fiddling with the fit of her gown's bodice, and not for the first time this week, either. Her clothes had apparently and suddenly become snug. Fanny observed her sister discreetly, seeking more confirmation that Rebecca might be in the family way before she embarrassed her by asking. Always highly strung, Rebecca had cast up her accounts that very morning though blamed it on nerves. If there was a babe coming, her marriage to Rafferty couldn't come a moment too soon.

Jessica settled into the seat beside Fanny. "When can we expect to meet your beau?"

"He is not really my beau," she reminded her youngest sister.

Rebecca huffed. "Fanny didn't want Lord Letterford to think he stood a chance, so what does she do but hire a paid companion to come between them."

"He's an actor," Fanny corrected. "And a very good actor."

Rebecca's nose wrinkled with distaste as she mouthed "actor" as if the profession was offensive. "An unknown. Could you not have found someone more believable? Someone feted and familiar with our circle would have been my preference."

Fanny thought she'd been rather clever. She'd hired a talented man to pretend to be her most ardent admirer, and therefore, always by her side—between her and any fortune hunter's intent on wooing her. Of course, no one would believe for a moment that she'd ever seriously consider a marriage to someone who trod the boards for a living, but they might believe she'd engage in a bit of scandal with one…therefore scaring off her most ardent suitors.

"I think it is a brilliant idea," Jessica enthused. "Lord Letterford is always asking Giddy if he's seen or heard that you would be visiting us soon. I don't want him for a brother."

Fanny shook her head. "My opinion of him hasn't changed since I was a girl. If he proposes again, I will refuse again."

"I think he must be very lonely," Jessica suggested.

Fanny caught Rebecca's eye. "Is there anything left for me to do for you before the wedding takes place?"

"I shouldn't think so. We just need the last guests to arrive," Rebecca replied with a heavy sigh. "Most have come, but there are a few stragglers. Your beau, for example, since you insist he be placed beside you at nearly every meal."

Fanny inclined her head. "Mr. Dawes arrives today."

Complete with a new wardrobe Fanny had paid for to make his presence among the wedding guests less of a talking point. The young man she'd singled out for her patronage would make a perfect companion for all the dinners and balls and such amusements that had been arranged to celebrate the marriage of Rebecca and Lord Rafferty. Father had been adamant that no expense be spared—most likely because he'd been allowed to do so little for Rebecca's first celebration.
Purchase the eBook Instantly

Receive Download Link via Email

Send to preferred eReader and enjoy!
Can I buy this book from other retailers?
Share
View full details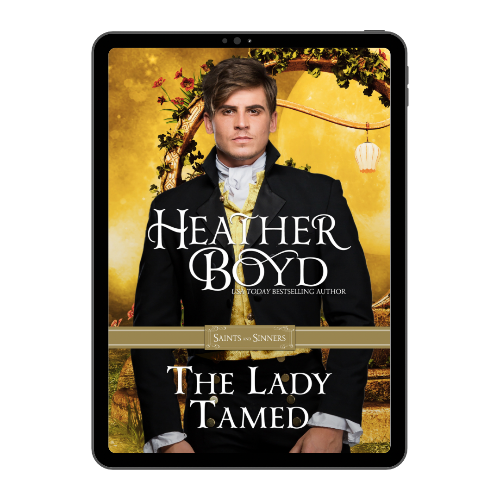 Saints and Sinners Series
Defining your place in a troublesome family is sometimes the first challenge to making the right match.