The widowed Duke of Stapleton normally abhors Christmas nonsense, but he grudgingly hosts a house party to prepare his youngest daughter for marriage. But when a steamy kiss exchanged under mistletoe leads to flirtation and more with his daughter's companion is it possible to secure his own happy match too?
Regular price
Sale price
$3.99 USD
Unit price
per
Sale
Sold out
Main Tropes
Widowed Duke

Mature Heroine

Christmas Romance
Synopsis

Widowed Nicolas Westfall, the Duke of Stapleton, cannot prevent the upcoming debut for his youngest daughter no matter how much he wishes her eventual marriage wouldn't leave him all alone. Convinced to host a Christmas Ball to prepare her for the season, he's aware he's considered a catch on the marriage mart too, but Nicolas is drawn to companion Gillian Thorpe instead.

Gillian was hired to prepare the duke's daughter for her first season, but its not easy when the girl hasn't the least interest in the men and the widowed father makes her knees weak when he laughs with her. Gillian respects and admires (perhaps too frequently) the Duke of Stapleton and when she's lured into a mistletoe kiss with him, will she be able to stop at one or even want to?
Intro to Chapter One

Nicolas Westfall paced the front hall of his middle daughter's Mayfair home, attempting to rein in his temper. Fanny had done it again. Offending an important member of society was no laughing matter. Memories of such impudence lasted years and Nicolas had another daughter to think about too. 

Fanny rushed down the stairs of her residence to greet him, smiling widely as she came but he'd bet she was dreading the coming inevitable confrontation over her behavior. She had to know why he'd come. "Father, what an unexpected surprise."

Nicolas regarded Fanny with exasperation. Of all his daughters, he had a soft spot for her, even if she was the most troublesome of the bunch. She reminded him of his late wife in so many ways. Impulsive, exuberant, and unmindful of many of the rules of society. 

Thankfully, Fanny still squirmed under his scrutiny the way she had since a little girl, and that gave him hope that she might listen to his counsel. After all, she was too old to take over his knee to deliver her the scolding she deserved. "Fanny."

"I thought you were still at home in the country," she exclaimed pausing several feet away.

"I had unexpected business in Town." He held open his arms. "Come here, Fanny girl. Give your old father a squeeze before I must scold you."

He always tried to prepare his children for when he needed to shout at them. They had no mother. Just Nicolas. He loved them but did not always approve of their choices.

Fanny hurried across the room, hugged him tightly for as long as possible and then slowly drew away from him. She winced. "It is not as terrible a scandal as everyone is saying. Gossip is almost always a vast embellishment of the truth."

He snorted. "You called the Duchess of Lowell an ill-bred old goat…"

"Without a shred of human kindness or decency," Fanny finished for him. "Yes, I admit I said that." 

There were other slanderous remarks she'd made too, but she would only admit to the rest if Nicolas mentioned them first. He knew his daughter well. He pinched the bridge of his nose. Finding a replacement governess for his youngest daughter will have to wait until another day. "Regardless of whether it is true or not you should not have said any of that in a public place," he complained. 

"But father it was terrible," she protested. "I couldn't sit idly by while a kind and gentle woman was so ill-used by that woman."

"I'm sure to you it was a grave indignity, but it was none of your concern. Why must you meddle in the affairs of those who can harm your reputation?"

"Well, it had to be someone's concern," Fanny protested. "The way some servants are treated makes my blood boil. I have no regrets. Not one."

She never did. Nicolas hooked her arm through his firmly and led Fanny along to her upstairs parlor. "I'm sure you see it that way, but others most certainly do not. I had dinner at my club last night and the silence on my arrival was extremely awkward, to say the least. Lowell was there and stormed out. You know I like him. Now tell me everything about the encounter from the beginning," he demanded. "I'll do my best to repair the damage you've done if I can."

Fanny explained what she'd found: a governess harried and abused at a coaching inn where she'd stopped for luncheon the previous week. It wasn't an unfamiliar story. Those with power often used it ill.

"Do you know the worst of it? Despite her efforts to please them, despite the beating she received with a parasol no less, Lady Lowell dismissed her there and then. They didn't care if they stranded her in that god-forsaken place. She would have had no position, no reference, and no hope of improving her situation or recovering her possessions from the country."

Fanny was the impulsive one, but she had a great heart for those with less than herself. Which amounted to nearly everyone she met, unfortunately. His daughter had been left a vast fortune by her late husband but thankfully had the brains to manage it competently herself. He suspected her habit of rescuing outcasts was borne out of a want of love in her life. Not for the first time did he wish her marriage had burdened her with children of her own.

"So you brought another stray home with you? I really hoped you would grow out of that habit." He sighed. "What were you doing at the inn in the first place?"

"I was returning from a picnic with friends." She looked up at him, her large eyes full of hope. "She is really very lovely. Kind. Not at all forward. Very quiet indeed."

"Quiet," the duke murmured reverently. "That must be refreshing."

"Oh, dear," Fanny consoled as she rubbed his arm. "Has Rebecca visited home recently?"

Nicolas had a handful of adult children, some of which had presented him with grandchildren too. Most of them were unruly, and the noise when they gathered together frequently sent him running for his library for peace and quiet. At the moment, he had left behind his second eldest daughter, Mrs. Rebecca Warner, at the family estate with his youngest daughter Jessica. Just thinking of going back to listen to them squabble made him long to stay in London far beyond his needs.

"She arrived last week and intends to stay another after my return," he said with a heavy sigh. "With a few of her closest friends in tow too," the duke complained.

"Oh, poor Jessica," Fanny said, wincing at her youngest sister's company for good reason. Rebecca's friends would put ideas in her head. Ideas and dreams he did not care to think about. "You should have brought Jessica with you to London."

His youngest daughter Jessica was not out yet but had acted as mistress of the ducal country seat for a number of years. She was extremely capable, much to Rebecca's chagrin. 

"Jessica wouldn't hear of coming with me and I much rather she stay at home until she comes out anyway. She's always happier in the country."

"You mean you're happier with Jessica in the country," Fanny chided sternly. "She's almost of an age to come out, Father. Next year she will have her season. You cannot keep Jessica a little girl for much longer."

"I can try," he promised, trying not to say it through gritted teeth.

Fanny gave him a look that suggested she saw through him. "The society around Stapleton is not diverse enough, and you know it," she chided. "She has to experience something of the world if she is to make the right choices for her future. She needs to meet young men too."

Nicolas believed himself a good father which meant no one was ever good enough to marry his daughters. He hadn't particularly liked Fanny's late husband, but he'd tolerated the match because Fanny had been smitten with the man.

He looked around the pretty room, ready to return to the topic of conversation that had brought him here in the first place. "So where is the governess you took in now? I trust you found her a better position than she had."

Fanny gave a guilty shrug. "We were upstairs before your knock at the door. Her name is Mrs. Gillian Thorpe, she's been widowed many an unhappy year."

The woman was still here? Damn, but he had hoped this was not another overstepping servant Nicolas might have to give their marching orders to. He was in quite the mood already and he'd use his title to protect his daughter today. "Well? Trot her out. Lets take a look at this supposed paragon of female virtue."

Fanny punched her hands to her hips. "She has not pulled the wool over my eyes, Papa."

"I'll be the judge of that," he insisted with a grim expression. "I won't tolerate any nonsense or delays this time round."

"Father! Quiet she might hear you," Fanny complained.

The last woman Fanny had taken in had stayed half a year before Nicolas had learned about her, accepting all manner of gifts from Fanny as if it were her right. Nicolas had found her a position four counties away with a family that rarely came to London but once a year.

"I hardly care for the sensibilities of a woman who would allow herself to be spoiled undeservedly. I knew the last one was trouble the first moment I met her," he said. "I will not allow you to be used again by anyone."

"All right, but remember to curb your tongue and be polite," Fanny pleaded. "She makes me laugh like no one else can. I like her very much."

"You like everyone at first sight," he grumbled, and they moved to the hall together. "It's only later that you notice their true colors and grasping ways."
Purchase the eBook Instantly

Receive Download Link via Email

Send to preferred eReader and enjoy!
Can I buy this book from other retailers?
Share
View full details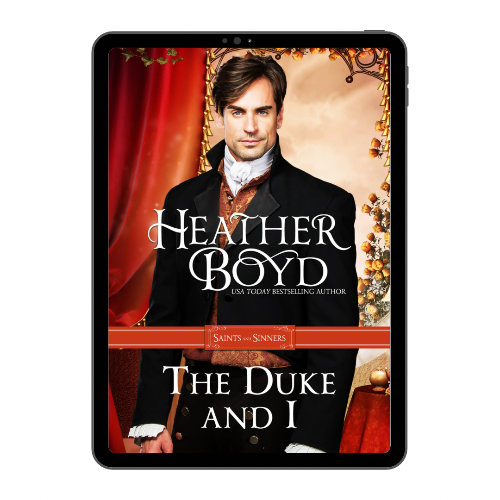 Praise for The Duke and I...
★ ★ ★ ★ ★ An enthralling, sizzling story of finding love a second time around. 5 stars ~ Janet via Goodreads.
★ ★ ★ ★ When by society's rules a couple shouldn't be together, yet are drawn to each other like moths to a flame, I love to see them overcome their obstacles. Their passion when given into is hot hot hot. ~ AnnMarie via Goodreads.
★ ★ ★ ★ Sweet story that I definitely recommend … They each bring joy to the other in the little moments we see; very cute. ~ Juliana via Goodreads
★ ★ ★ ★ ★ Different from most romances, but an amazing story. I loved that they were a more mature couple so there was a different vibe from both of them. ~ Kelly The Sassy Book Lover
Saints and Sinners Series
Defining your place in a troublesome family is sometimes the first challenge to making the right match.