When Amity Sweet begged Roman Crawford to ruin her to avoid marriage, neither expected to feel such wicked passion…or unforgiving longing after the deed. Circumstances separate them. Desire and need bring them back together. A cunning ruse may ensure they never part again.
Regular price
$3.99 USD
Sale price
$3.99 USD
Unit price
per
Sale
Sold out
Main Tropes
Revenge Sex

Not to Marry Pact

Forbidden Love
Synopsis

From the moment George Sweet stole his intended, Roman Crawford has pursued every possible manner of revenge against the nasty scrub. Though he does have his limits. Debauching Sweet's sister, a veritable paragon of vestal goodness, is beyond the pale—yet that is exactly what the lady herself requests. Roman isn't willing or able to refuse when Amity Sweet quite literally begs him to participate in her ruin. But instead of a shy, virtuous flower, Roman finds himself in the arms of a wickedly passionate beauty…who disappears from Town immediately after their tryst.

If public humiliation is the only way Amity can escape an arranged marriage to one of her vicious brother's cronies, then it will be on her terms. She enlists the aid of George's greatest enemy, who she's certain will be happy to see her brother brought low by her corruption. But Amity is no fool. She also chose Roman because of his reputation in the bedroom. She expects to find pleasure in her ruin. She does not, however, expect to find Roman Crawford nigh unforgettable.

When the pair meet again, their wicked attraction is stronger still, but Amity despairs of falling for a man pining for another, while Roman knows any offer for her hand may further alienate Amity from her family. Neither are aware that their worries may be for naught. That their combined fate—and destiny—may already be sealed.
Intro to Chapter One

Roman Crawford felt a tug on the back of his coat and turned his attention from the ballroom to see who had snuck up behind him unannounced.
"Don't turn to look at me," a woman whispered urgently.
He tried not to roll his eyes. Past lovers could be so tedious sometimes when they hoped to regain his attention. But he didn't recognize this particular woman's voice, so no doubt it was a lady long forgotten and of the belief that he would enliven her evening if offered a chance to get under her skirts again. She was in for a rude realization. He had loved and lost, and had no time for any game but his own. "Why shouldn't I look? Clearly you seek my attention."
"I don't want my family seeing me talking to you," the woman whispered with fear in her voice.
In Roman's experience, neglected women tended to want people to look at them and become jealous, to prove they still mattered. He scanned the ballroom for familiar faces, for husbands of previous lovers, but saw none within his immediate view.
He relaxed but truly wanted to turn and end the game, though he had to admit he was amused by her stealthy approach. "Who would your family be?"
There was a long pause. "You don't recognize me by my voice?"
He shook his head. The voice nagged his memory but not enough to produce a name to match its sweet tones. "No."
"I feared as much." The woman sighed heavily. "We've never spoken directly to each other, sir."
He almost laughed out loud. "Then how could I know your family?"
"You do know some of them well, but you are not on good terms with my side. Not that I blame you."
"You have my complete attention now," he murmured, straightening and letting his eyes sweep the room one more time. There were many in this room whom he knew well indeed, depending on the length of their acquaintance. There were few he actively loathed though.
One irritating creature stood directly across from him, holding court among his cronies. His senses came alert when he noticed an absence in that man's vicinity.
"For how long has this dislike been so apparent?"
"At least the last year," she said quietly.
He stiffened as the only possibility immediately came to mind. The softly spoken woman behind him could only be a connection of the despicable creature he was trying to ruin. George Sweet had been a target of Roman's rage for one year exactly. Everyone knew why. "And would you happen to be a close relative?"
"Unfortunately, yes."
He turned his head slightly. "Sweet Paragon?"
"Shh," the woman hissed, confirming his guess about her identity was correct.
Roman knew exactly who was trying to talk to him, and why she was trying so hard not to be seen. He could hardly believe she'd dare. Lady Amity Sweet, niece to the current Duke of Ravenswood, sister to the man he loathed beyond all reason, shouldn't have sought him out. Not unless she was wanted to be used in Roman's bid for unending revenge against her older brother. She could be ruined in the blink of an eye. "How may I be of assistance?"
"Ruin me."
Roman blinked, believing he'd misheard his own thought coming from her lips. "I beg your pardon?"
"Ten minutes. Beneath the staircase. Meet me there and tell no one."
No one would believe him if he did, anyway. He could hardly believe he was the recipient of such a scandalous invitation from her of all people.
Roman glanced over his shoulder into the darkness and found Lady Amity Sweet, slender and lovely to behold, huddled against the outer wall of the townhouse. "Now why would I want to risk my neck sneaking off with you when I could ruin you here just as well as anywhere," he snarled. "If I ever wanted to."
She straightened from the wall. "Because being found together does not suit either of our purposes," she snapped. "You're used to ladies you barely know making requests for you to meet them for a tryst. You never see them again. One more scandalous liaison could hardly be a burden now, could it?"
He was surprised Lady Amity had noticed the way he treated the women in his life—or dared mention them to his face. Women were temporary amusements unless it's the one you loved.
Yes, many women sought him out for an all-too-brief fling. But Lady Amity Sweet never should. The woman was an incomparable. A diamond of the first water. Followed and guarded day and night. Had she had enough of her status at the top of the heap and slipped away for a taste of danger?
He glanced around again, weighing up the significance of her approach. If Amity wouldn't guard her reputation from scandal, why the hell should he worry about it?
Roman had already considered what use Amity might be to him, but there was only so far he would go extracting his revenge, of course. He did not ruin innocents.
Not like her brother had.
But Amity was well placed to feed him information about her brother's interests in the future. He was already well advanced on a way to impact George Sweet's pocket this week. There was no way to immediately benefit from the woman's approach, aside from the ruin she asked for.
He would send her on her way for now but perhaps arrange to meet at a later time.
Ever since George Sweet had ruined and married the love of Roman's life, he had gone out of his way to interfere in George's private affairs. Roman had spent the last year actively working toward spoiling her brother's chances of success every time their interests collided. They were enemies. They moved in the same circles thanks to his money, but otherwise ignored each other in public.
And Amity had now come to him for ruin.
He stepped into the dark with her, keen to hear her reasons and to arrange a further meeting far from prying eyes. "Be quick in explaining or you'll be ruined just standing here alone with me."
"But that is what I want. Ruin, and tonight."
She couldn't be serious.

Purchase the eBook Instantly

Receive Download Link via Email

Send to preferred eReader and enjoy!
Can I buy this book from other retailers?
Share
View full details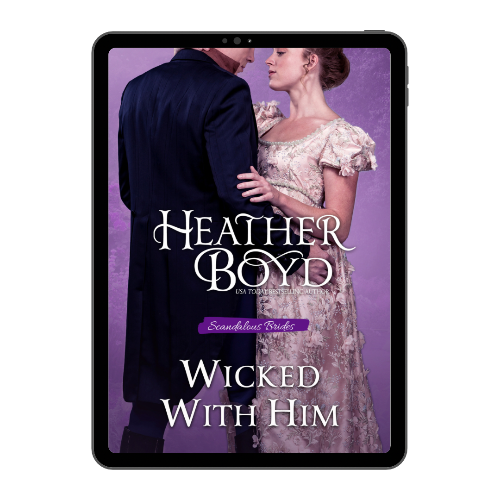 Praise for Wicked with Him...
★ ★ ★ ★ ★ 'Woohoo, a new series from Heather and it starts with a bang. This novella was so freaking good.' ~ Angela D, Goodreads

★ ★ ★ ★ ★ 'the lovemaking is steamy, but at the same time very emotional' ~ Gloria P, Booksprout Reviewer

★ ★ ★ ★ ★ 'Fantastic start to a new series. Fast paced read, wonderful characters and leaves you wanting more!' ~ Rosie T, Netgalley

★ ★ ★ ★ ★ 'Such a yummy story filled with hot tempers, revenge and steam!' ~ Jayne B, Bookbub

★ ★ ★ ★ ★ 'Fun Wickedness: The story is a quick read, steamy, humorous and filled with characters with great depth. Can't wait to see what the four cousins get into overtime and the new Duke is my favorite of all.' – Jo R, Booksprout

★ ★ ★ ★ ★ 'Deliciously wicked: A steamy, past paced, enjoyable read.' – Jessica M, Goodreads

★ ★ ★ ★ ★ 'Such a great story: An unexpected delight! I didn't expect to be pulled in so quickly.' Missusm, Booksprout

★ ★ ★ ★ ★ 'Oh, boy! An amazing book and an amazing start to the series. I cannot even BEGIN to describe how much I enjoyed this book.' – Rebecca, Goodreads

★ ★ ★ ★ ★ 'Both Roman and Amity were very charismatic characters, and the desirous attraction between them had smoke coming off the pages.' Cherie, Booksprout
Scandalous Brides Series
Scandals rarely take place in the center of the ballroom, but on the fringes anything is possible.
Regular price

$3.99 USD

Sale price

$3.99 USD

Unit price

per

Regular price

Sale price

$4.99 USD

Unit price

per

Regular price

Sale price

$4.99 USD

Unit price

per